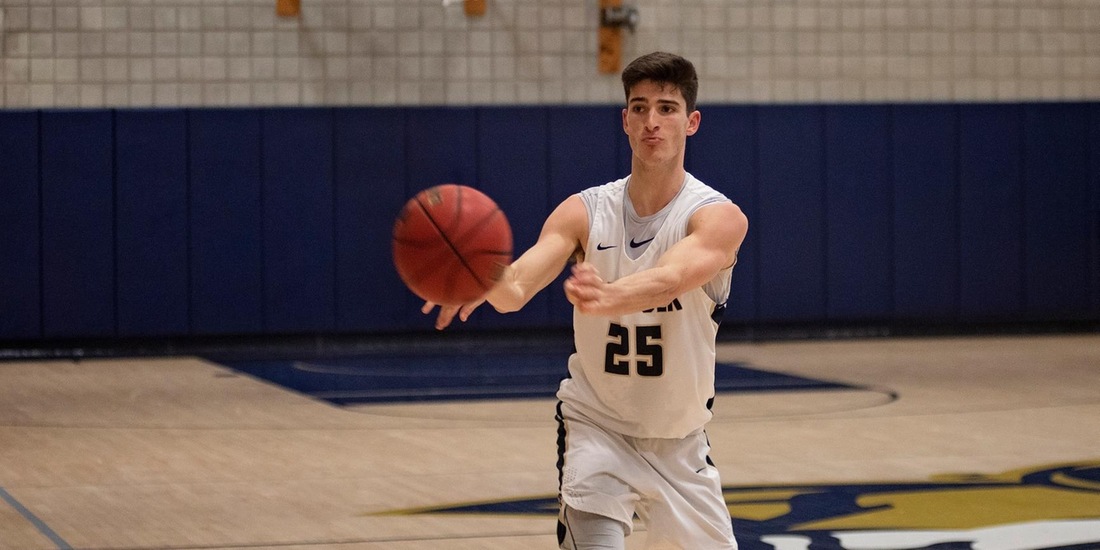 NORTHFIELD, Vt. – Suffolk men's basketball knocked down 12 triples and had a well-balanced effort to cruise past Norwich, 82-53, Wednesday night at Andrews Gym.
THE BASICS
SCORE: Suffolk 82 | Norwich 53
RECORDS: Suffolk (12-10, 4-4 GNAC) | Norwich (5-17, 1-7 GNAC)
HOW IT HAPPENED
Suffolk used sharp shooting from downtown, going 7-for-13 from three-point land, to build a hefty first half lead.
A game-opening 7-2 run turned into a 10-point advantage, 23-13, in the Rams' favor at the midway point.
Suffolk continued to pile up the points as Alex Jacovides went on his own 8-2 spurt to push the advantage to 16, 31-15, with 8:32 to go before half time.
The game of rallies kept up for the Rams. This time nine unanswered extended the margin to 25, 42-17, at the 2:26 mark.
Norwich kept Suffolk scoreless for the remainder of the opening half and scored four of its own to trim the gap down to 20, 42-22, at intermission.
The Rams kept the Cadets at an arm's length away throughout the second set of 20 minutes. Slowly, but surely the distance to 30 with just over two minutes to play. Cameron Powers knocked down a trey, his second of the night and the blue-and-gold's 12th bucket from three-point range, to give the visitors their largest lead of 32 with 1:42 left on the clock.
Norwich and Suffolk went bucket-for-bucket from there for the 82-53 final.
INSIDE THE NUMBERS
Jacovides had a game-high 15 points as a Rams' reserved. He went 4-for-11 from the field, including a 3-for-8 showing on the long ball to anchor a Suffolk squad that had a dozen players supplying at least two points to the scoring.
Jonathan Eng provided 14 points on a 5-for-7 night with a 4-for-6 effort from downtown.
William Rowe registered 10 points, five caroms, two steals and two swats.
Nate Hale added nine points off the bench with Brendan Mulson and Max Bonney-Liles adding eight points and seven points respectively.
Suffolk shot nearly 50 percent on the day from the field (49.2) and from three-point land (48.0) and had a near 90 percent (88.9) at the charity stripe.
The Rams outrebounded the Cadets, 33-24.
NOTEWORTHY
Suffolk extended its win streak against Norwich to four to move to 21-24 all-time against the Cadets.
Under Jeff Juron's guidance, Suffolk is 6-2 versus Norwich.
Eng matched a personal-best four triples made.
Powers matched a career-high two treys made.
Connor Byrne matched a personal-high one takeaway.
Ismail Fofana dished out his first collegiate dime and matched a career-high one carom.
Adam Davenport's one assist matched a career high.
LOOKING AHEAD
Suffolk concludes its road scheduled Saturday, Feb. 15 at Colby Sawyer. Game time is set for 3 p.m.