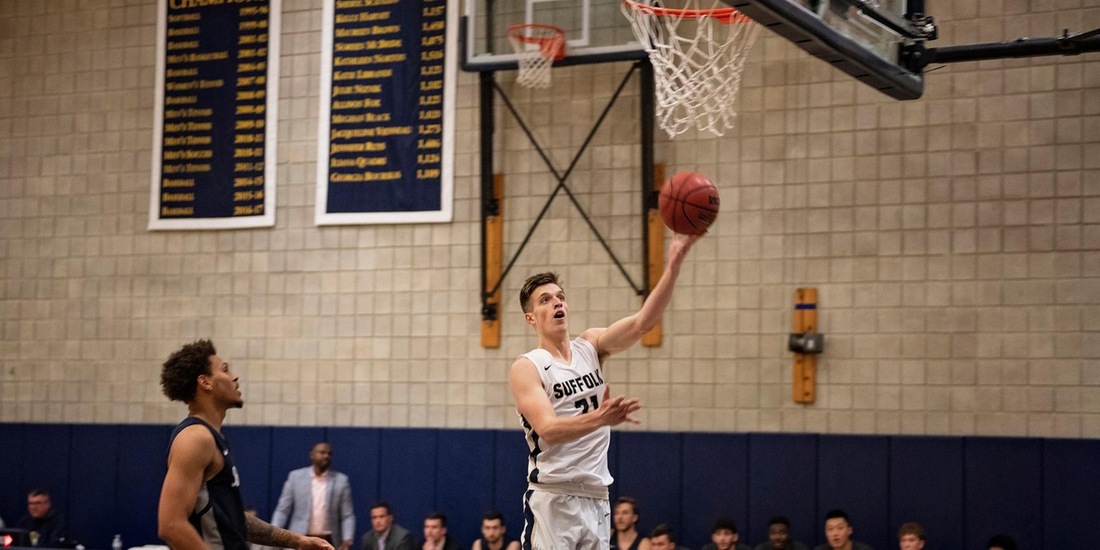 WEDNESDAY, FEB. 12 // 6:30 PM
ANDREWS GYM // NORTHFIELD, VT.
LIVE STATS // VIDEO

EYES ON THE GAME
SERIES RECORD // SUFFOLK TRAILS, 20-24
LAST MEETING // JAN. 26, 2019, W, 64-56
LAST SUFFOLK WIN // SAME
STREAK // W3

---
BOSTON – Suffolk men's basketball makes the trek to Norwich Wednesday, Feb. 12. The midweek match with the Cadets is set for a 6:30 p.m. tip-off.
LET'S TALK ABOUT #RAMNATION
RamNation has a chance to keep up with all the latest news and notes on Suffolk Athletics, its student-athletes and teams by following the Rams on Facebook, Instagram and Twitter.

LAST TIME OUT
Suffolk men's basketball could not hold off a late surge by Emmanuel and the Rams fell to the Saints, 82-72, Thursday night at Andy Yosinoff Court.
MORE READING: Men's Basketball Falls at Emmanuel, 82-72
RAMS RUNDOWN
After the 82-72 setback at Emmanuel Thursday, Suffolk dipped to 11-10 overall and 3-4 in GNAC play.
A trio of Rams provide double digits to a well-balanced 77.0 ppg offensive output. Nate Hale's 11.8 ppg leads the way with Max Bonney-Liles and Thomas Duffy supplying 10.9 ppg and 10.7 ppg, respectively.
Defensively, Brendan Mulson pulls down 5.8 rpg to anchor the blue-and-gold's 34.7 rpg effort. William Rowe records 4.6 rpg and Jarret Byrne chips in 4.2 rpg.
CADETS CATCHUP
Norwich slipped to Regis, 86-64, Saturday to sit at 5-16 on the year and 1-6 versus GNAC counterparts. The Cadets only league win came over Saint Joseph's (Maine), 77-74, Feb. 1.
Jesse Davis' anchored Norwich's 68.2 ppg with 12.7 ppg of his own. He is one of four players producing double figures, however, he has been out since the midway point of the season. Donovan Lewis Jr. (12.3 ppg), Kyle Booth (12.2 ppg) and Caleb Casinas (11.8 ppg) have taken over the bulk of the offensive load.
Lewis Jr. and Booth are the top every-day rebounders. Lewis Jr. grabs 6.1 rpg with Booth pitching in 6.0 rpg to the Cadets' 37.4 rpg effort.
INSIDE THE SERIES
Suffolk has bested Norwich in three straight meetings to improve to 20-24 all-time against the Cadets.
The Rams are 5-2 versus the Cadets in the Jeff Juron era.
WHAT'S NEXT?
Suffolk concludes its regular-season road calendar at Colby Sawyer Saturday, Feb. 15. Tip-off is scheduled for 3 p.m.