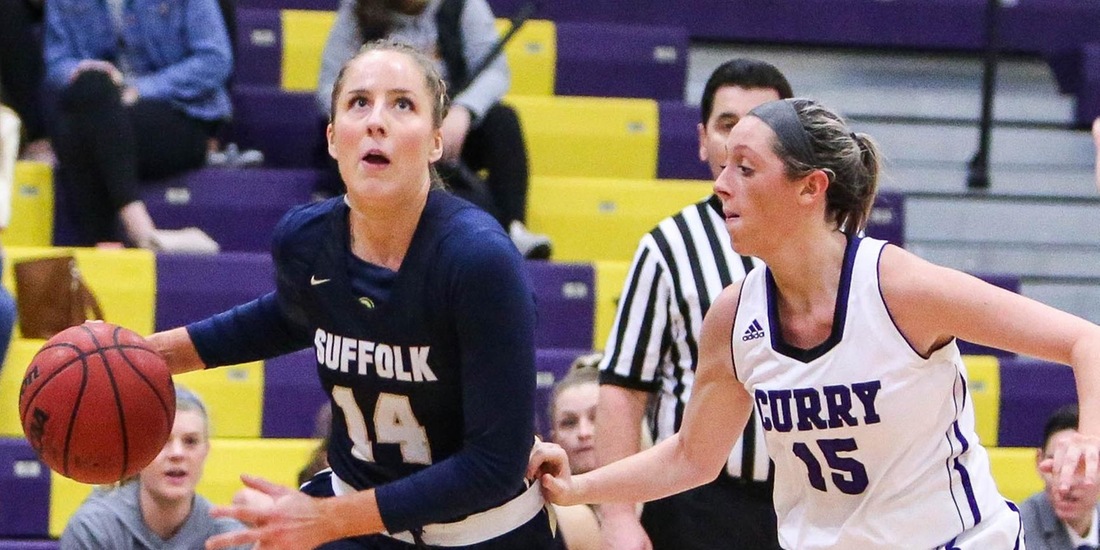 WEDNESDAY, FEB. 12 // 8:00 PM
HIGGINS COURT // WESTON, MASS.
LIVE STATS // VIDEO

EYES ON THE GAME
SERIES RECORD // SUFFOLK TRAILS, 6-12
LAST MEETING //JAN. 22, 2019, W, 70-56
LAST SUFFOLK WIN // SAME
STREAK // W3

---
BOSTON – Suffolk women's basketball rides its four-game win streak to Regis Wednesday, Feb. 12. The Rams and Pride will clash in an 8 p.m. matchup.
LET'S TALK ABOUT #RAMNATION
RamNation has a chance to keep up with all the latest news and notes on Suffolk Athletics, its student-athletes and teams by following the Rams on Facebook, Instagram and Twitter.

LAST TIME OUT
Suffolk women's basketball pushed its winning ways to four straight games Saturday as the Rams upended Eastern Nazarene, 67-42, at the Lahue Physical Education Center.
MORE READING: Women's Basketball Runs Win Streak to Four, Handles Eastern Nazarene, 67-42
RAMS REVIEW
Suffolk heads into Wednesday's meeting 15-6 overall, 6-1 in GNAC action and on a four-game win streak.
Jenni-Rose DiCecco continues to power the blue-and-gold's 64.9 ppg offense with 15.1 ppg of her own and 4.9 apg. Gabriella DeComo chips in 10.9 ppg with Alexis Hackett on the verge of double figures with 9.8 ppg.
Hackett holds down the glass with 9.4 rpg to lead the Rams' 41.7 rpg effort. Emily Welling adds 4.8 rpg with DiCecco and Jordan Hipwell supplying 4.7 rpg and 4.4 rpg, respectively, to the cause.
PRIDE POINTS
Regis saw its own four-game win streak end Saturday by the hands of Norwich, 46-38, to head into the midweek match 12-10 overall and 6-2 in GNAC contests.
A trio of players produce double digits to pace the Prides' 59.7 ppg. Pam Gonzalez leads the way with 12.8 ppg with Arie Searcy (10.4 ppg) and Katryna Veasey (10.3 ppg) consistently in the scoring mix as well.
That threesome are the top go-getters on the glass as well. Gonzalez paces the pack once again with 8.7 rpg. Veasey grabs 6.5 rpg and Searcy provides 6.4 rpg.
INSIDE THE SERIES
The Suffolk, Regis rivalry is one of the oldest in the Rams' record books, dating back to 1987.
The blue-and-gold trails the Pride all-time, 6-12, despite winning back-to-back battles with Regis.
Last year, Suffolk bested Regis, 70-56.
COMING UP
Suffolk returns to the friendly confines of Smith Court Saturday, Feb. 15 when it entertains Norwich on the newly revamped hardwood at 1 p.m.