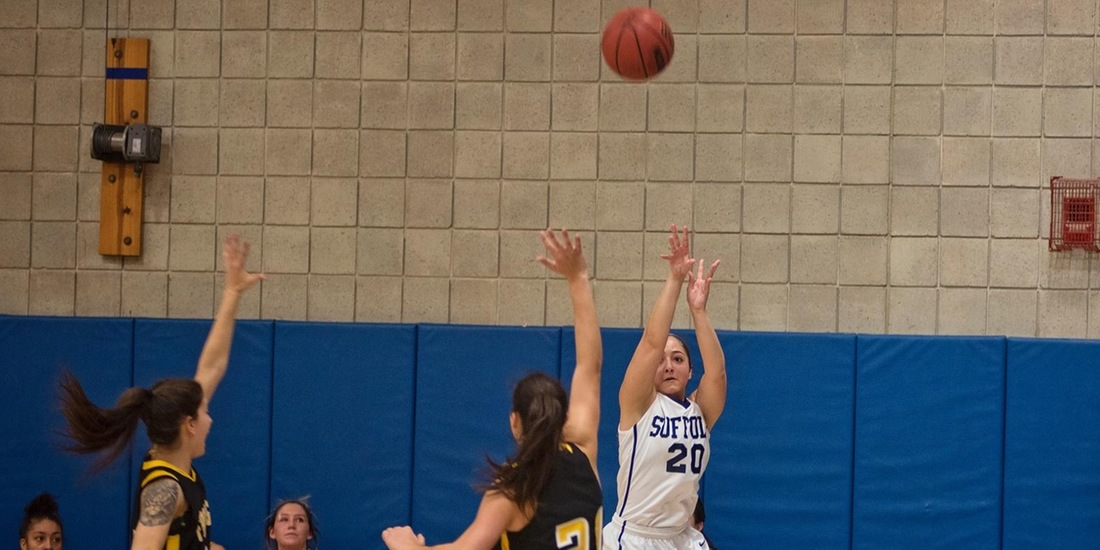 MAHWAH, N.J. – The Suffolk women's basketball team collected its first win of the 2017-18 season in scoring fashion as the Rams rolled over Saint Joseph's (Brooklyn), 90-45, to open action at Ramapo's Roadrunner Tip-Off Tournament Friday evening at the Bradley Center.
THE BASICS
SCORE: Suffolk 90, St. Joseph's (Brooklyn) 45
RECORD: Suffolk (1-1) | St. Joseph's (Brooklyn (1-1)
HOW IT HAPPENED
Suffolk took a 26-15 advantage after the first quarter and put on cruise control from there as the Rams turned a 55-28 half-time lead into a 75-40 cushion after 30 minutes of play. The blue-and-gold sealed up the with, outscoring the Bears, 15-5, in the final frame for 90-45 margin.
STATISTICALLY SPEAKING
NOTEWORTHY
Suffolk and St. Joseph's (Brooklyn) met for the first time.
The Rams' 90 points mark the most for the blue-and-gold since defeating Wentworth, 92-46 Nov. 28, 2016.
Six Rams notched career highs

Hipwell points (8), rebounds (8) and blocks
DiCecco assists (9)
Gudauskas points (16)
Smith points (10)
Blazejowski points (9), assists (2) and steals (1)
DeComo points (8), rebounds (8) and assists (3)
Stephanie Langlais points (2), rebounds (4) and blocks (1)

Langlais made her collegiate debut.
WHAT'S NEXT?
Suffolk will face tournament hosts Ramapo in the Roadrunner Tip-Off Tournament Championship Saturday, Nov. 18 at the Bradley Center.