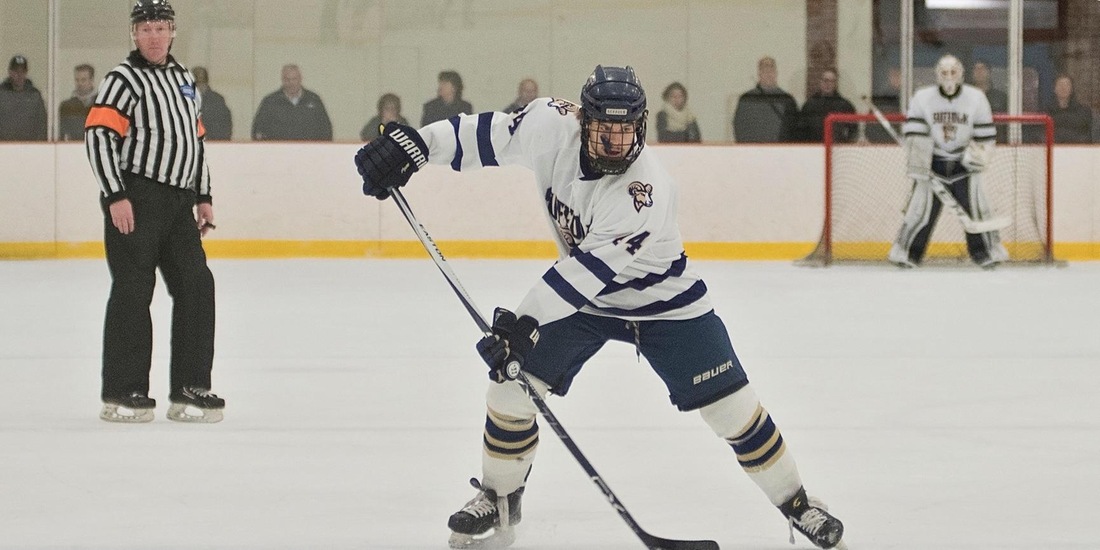 EVERETT, Mass. – The Suffolk men's hockey team took an early lead, but could not hold off a two-goal second-period by Wentworth and the Leopards went on to hold on to the advantage and skate away with a 2-1 Commonwealth Coast Conference (CCC) victory Friday night at Allied Veterans Rink.
THE BASICS
SCORE: Suffolk 1, Wentworth 2
RECORDS: Suffolk (5-6-1, 2-6-1 CCC) | Wentworth (4-6-3, 3-3-3 CCC)
HOW IT HAPPENED
Mikhail Bryan opened the scoring 6:27 into action with the junior using helpers by Brian Brooks and Matt Bucher.
The Rams maintained their advantage heading into the first intermission, but the Leopards had other things in mind out of the break. Jake McDonough put away the equalizer 4:14 into the second stanza with feeds by Connor Beaudet and Angus Johnston.
A battle persisted from there before Wentworth gained its first lead of the night at the 10:55 minute mark when Georgy Gordetskii struck. Adam Tracey and Adam Lane each assisted on the eventual game-winner.
In the third, Suffolk attempted a comeback and outshot the Leopards, 10-8. Each of the Rams attempts were denied and the blue-and-gold's last ditch effort of pulling Michael Levine from between the pipes to add an extra skater, but Wentworth held onto the 2-1 conference victory.
KEEPING UP WITH THE KEEPERS
Levine made 33 stops in the setback.
Kenny Graham improved to 2-2-2 on the season thanks to a 32-save effort.
STATISTICALLY SPEAKING
Bryan was the lone goal scorer for Suffolk with Brooks and Bucher each earning assists.
Wentworth held a slim edge in shots, 35-33.
Suffolk commanded the faceoff circle, 37-33.
NOTEWORTHY
Suffolk and Wentworth met for the 30th time since 1999.
Bryan recorded his first goal of the season to tally a point in the last two games he appeared.
Brooks stretched his point streak to eight straight games. The sophomore has notched 10 points through the stretch on four goals and six helpers.
COMING UP
Suffolk and Wentworth will tangle in a rematch tomorrow night Saturday, Dec. 9. Puck drop at Emmons Horrigan O'Neil Memorial Rink is set for 7:30 p.m.