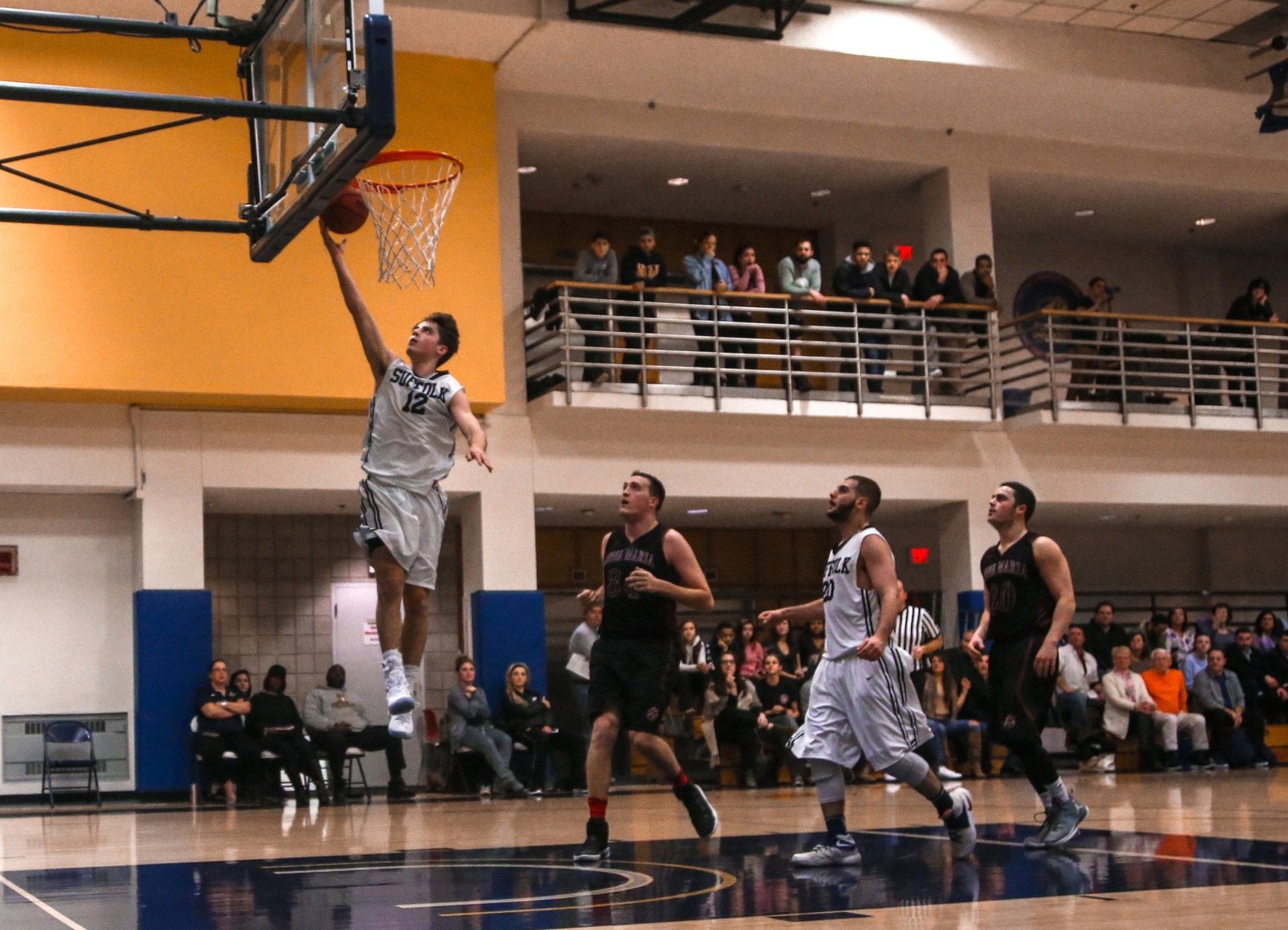 Game Info
Date
Time
Venue

Series
Live Stats
Video


Suffolk vs. JWU
Saturday, Feb. 11
3 p.m.
Regan Gymnasiumk
Boston, Mass.
Trails, 14-6
Live Stats
Stretch

---
BOSTON – The Suffolk men's basketball team caps off its regular-season home slate Saturday, Feb. 11 as the Rams welcome Johnson & Wales to Regan Gymnasium. Game time is set for 3 p.m.
SOCIALIZE
Stay up-to-date with all the latest news and notes on Suffolk Athletics by connecting with the Rams on Facebook, Instagram and Twitter. Be sure to use the hashtag #RamNation for an insider's look at Suffolk's teams and student-athletes.

LAST TIME OUT
Michael Hagopian put up 20-plus points for the third time in the past four games, but it would not be enough as Lasell used two 40-plus points halves to run pass the Suffolk men's basketball team, 93-65, Tuesday night inside Regan Gymnasium.
MORE READING: Lasell Powers Past Men's Basketball, 93-65
RUNDOWN ON THE RAMS
With just three games remaining in the regular season, and two of which will be played on the road, Suffolk, who is currently in sixth in the GNAC standings, carries a 6-16 overall record and 5-10 league ledger into Saturday's showdown.
Suffolk's 64.9 ppg is led by Michael Hagopian's 13.5 ppg output. Jim Djema adds 10.0 ppg to the offense, which shoots 41.6 from the floor, with George Grillakis adding 7.4 ppg.
The battle on the boards have more often than not been won by Suffolk's opponents with the Rams' 32.5 rpg being out rebounded by 4.8. Thomas Duffy's 5.5 rpg paces the pack with Grillakis and Hagpian chipping in 3.6 rpg and 3.2 rpg, respectively.
WILDCAT WAYS
Johnson & Wales picked up back-to-back convincing victories, defeating St. Joseph's (Maine) (82-52) and Anna Maria (74-55), to ride a two-game win streak into Saturday. The consecutive triumphs put the Wildcats at 11-9 overall with all of JWU's triumphs coming against conference competition. The Wildcats' 11-3 league ledger is good for second in the standings.
JWU's offense is the fourth-best in the league with 74.0 ppg and receives a significant contribution from Anthony Jernigan's 21.2 ppg. Jarell Lawson is also a consistent offensive force for the Wildcats, producing 13.4 ppg.
Defensively, JWU is similar to Suffolk, being outrebounded by its opponents by 4.3, pulling down 37.0 rpg. Demani Spence and Lawson are the most consistent on the glass for the Wildcats with the former grabbing 6.7 rpg and the latter taking down 6.2 rpg.
WE MEET AGAIN
The Suffolk men's basketball team was limited to just 51 points at Johnson & Wales as the Wildcats put on pressure and excelled offensively to defeat the Rams, 77-51, inside the Wildcat Center Jan. 25.
MORE READING: JWU Defense Sets Back Men's Basketball, 77-51
THE SERIES
JWU has won the last 11 meetings in the all-time series versus Suffolk to hold a commanding lead over the Rams, 26-13.

30-POINTS AND 10 YEARS AGO
Michael Hagopian followed up his 34-point performance versus Anna Maria Jan. 28 with a 36-point output at Rivier Feb. 1 to be the first player in over a decade to secure back-to-back 30-plus point outings. The sophomore from Watertown, Massachusetts, is the first player in blue-and-gold to accomplish the feat since John Murphy '07 did so at Johnson & Wales (Jan. 17, W, 97-91 2OT) and Daniel Webster (Jan. 20, L, 89-88 OT). Hagopian need just nearly 30 minutes to notch his 30-plus points, while Murphy racked up 39 and 30 points, respectively, in double overtime against the Wildcats and one extra session versus the Eagles.
Hagopian, who set the most points by a Ram in the Jeff Juron era with his 34-point performance versus the AMCATS, displaced his own record just five days later. The 36 points are the most by a Ram since Sam Nwadike recorded 39 in a thrilling 84-82 Suffolk win over Anna Maria, Dec. 4, 2014. He is also the first player to notch 30 points in an outing since Nwadike registered 30 in a 79-64 setback to Emerson Jan. 4, 2015. Hagopian's two 30-point games in one season is the most by a Ram since Nwadike matched that number in 2013-14.
ROOKIE REMARKS
For back-to-back weeks Dec. 5 and 12, Thomas Duffy earned GNAC Corvias Rookie of the Week honors.
MORE READING: Duffy Named GNAC Corvias Rookie of the Week |Duffy Grabs Second Straight GNAC Corvias Rookie of the Week
SUFFOLK FREE RADIO
Suffolk Athletics has teamed up with Suffolk Free Radio to bring Ram Nation live broadcast events this year including multiple home and away women's basketball contests.
The pre-game shows are set to launch 15 minutes prior to tip-off of all contests and fans can follow along at mixlr.com/suffolkfreeradio/.
WHAT'S NEXT?
Suffolk will conclude its regular-season on the road next week as it visits Anna Maria Tuesday, Feb. 14, before stopping by St. Joseph's (Maine) Saturday, Feb. 18.